Living on Lake Garda
A magical place to live surrounded by history and nature.
A unique melange of colours and landscapes envied throughout the world. Lake Garda is the largest Italian lake and the crossroads of three Regions: Veneto, Lombardy and Trentino Alto Adige. Living on Lake Garda means being able to enjoy everything the lake has to offer: from walks along the lake and not only, to the typical shops, from the bars to nature and amusement parks.
Parks of Lake Garda
Fun is guaranteed in this magical place, but there is no lack of opportunities for hiking and lots of sport.
The nature parks of Lake Garda are very renowned locations: they are the favourite destinations to take children to have fun in the wonderful nature of the lake, but also for adults who can enjoy hiking and long walks.
The Thermal Park of Lake Garda is a favourite destination for many tourists, as is the Sigurtà Garden Park or the Monte Baldo National Park. The Amusement Parks and Water Parks of Lake Garda that have been entertaining tourists and other visitors during the long summer days for years are also world famous.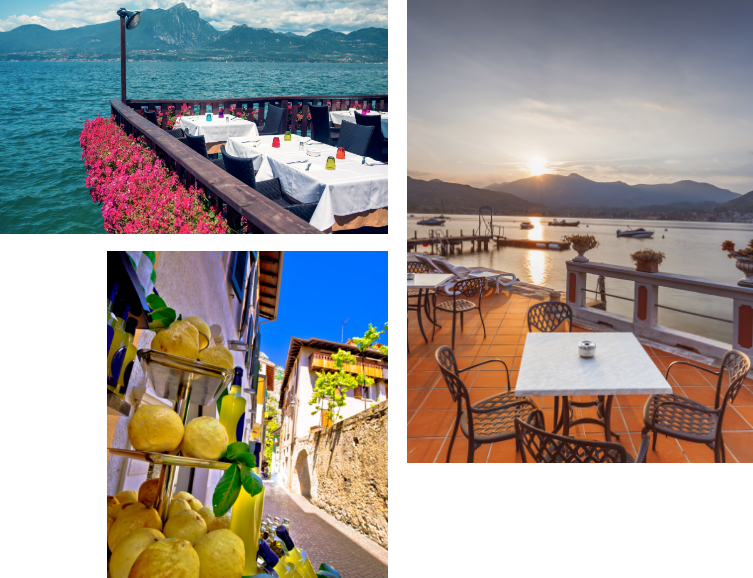 Typical Lake Garda
cuisine
Famous local ingredients and the culinary heritage of Garda are the freshwater fish, black and white truffles and saffron. It will be easy to stroll through the streets of the small villages overlooking Lake Garda and breathe in the aroma of typical dishes such as Bigoli con le Sarde (pasta with sardines) and Luccio e Polenta (pike with polenta) or typical delicacies such as Risotto con la tinca (risotto with tench), or medieval specialities such as the dessert La Persicata.
Sport:
from water to land
Lake Garda is a favourite destination for many sports enthusiasts. It is in fact a versatile location and suitable for many different types of sport. This is due to the natural conformation of the area which guarantee winds ideal for windsurfing and sailing, vast, calm waters suitable for rowing and boating, and a natural underwater splendour suitable for diving and sport fishing.